Newsletters
EVENT ALERT: Whiteboard Town Hall on the Build Back Better Act
Washington, November 30, 2021
Dear friend,
This month, I voted to invest in what our country needs to grow our economy: affordable child care, lower health care costs, robust climate action, and more. Our global competitors have long prioritized these economic building blocks, and I'm proud to do my part to help the United States remain the strongest, most stable economy in the world.
There's a lot to unpack in the
Build Back Better Act
, and as your Representative, I want to answer your questions about how this landmark legislation helps Orange County families.
On Wednesday, December 1, 2021, I'm hosting an Instagram Live on the
Build Back Better Act
.
I'll use my whiteboard to break down what's in the bill, and I'll be taking questions live from audience members. Join the conversation at 6 PM PT.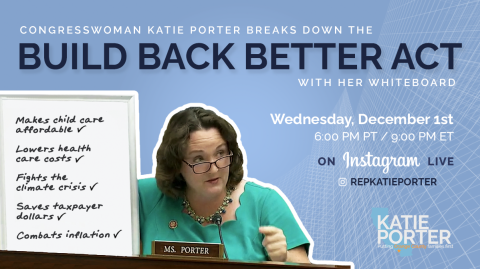 Can't make it? Submit questions
HERE
and be sure to check out the recording on my
Instagram
and
YouTube
pages whenever you're available.
We'll be going over how the
Build Back Better Act
:
✅
stabilizes our workforce
by making child care and elder care more affordable,
✅
saves taxpayer dollars
by lowering health care costs, including prescription drug prices,
✅
makes our economy more globally competitive
by investing in clean energy,
✅
restores tax fairness
by raising the SALT deduction cap,
✅ is fully paid for by making the ultra-wealthy and large corporations
pay their fair share
in federal taxes,
And more!
I hope you and your family will tune in to my Instagram Live later this week. In the meantime, you can stay up to date on how I'm representing you and California's 45th District by following me on Twitter, Facebook, and Instagram at @RepKatiePorter, or by visiting my website at
www.porter.house.gov
. If you have any questions, please reach out to our office at 949-668-6600.
Very truly yours,



Katie Porter
Member of Congress